A seed to help small businesses grow
Small businesses play a vital role in the economy, and we're proud to support them by offering SBA (Small Business Administration) loans guaranteed by the federal agency.
Available programs
Low down payment (typically 10%) options
$5,000,000 maximum; $5,500,000 maximum for small manufacturers
Apply
Connect with a commercial loan officer.
Additional SBA 504 Loan Benefits
Eligible uses
The purchase of land and building
The purchase of land and land improvements (like grading, utilities, parking and landscaping)
The construction, renovations, additions or improvements to building
Furniture and fixtures
The purchase of machinery
Refinancing debt in connection with an expansion of the business
Who's eligible
The SBA (504) Program is available to "for-profit" businesses with a tangible net worth not to exceed $15 million and yearly net profit after taxes not to exceed $5 million in the last two years. Owner occupied 51% for existing or 60% for new construction.
Loan terms
Take advantage of longer fixed rate terms
Consumers typically loans 50% of the amount borrowed
The CDC extends 40% of the financing guaranteed by the SBA
Business Member Spotlight
Can-Do Kitchen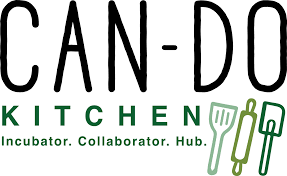 This business incubator helps entrepreneurs produce, package and market food products in an industry that's notoriously competitive—especially for those who face racial and social barriers.
Learn More