Fun ways for kids to save
Consumers has partnered with Wimee, the coolest robot around, to create a fun and engaging way for kids 12 and under to learn about money and create great savings habits at the same time.
Wimee and his friends have a wonderful way of leading kids through the world of numbers and finances with stories and simple illustrations that make complicated concepts a piece of cake!
Join the Club today to make saving easy (and rewarding), too!
Learn about Wimee
Open Account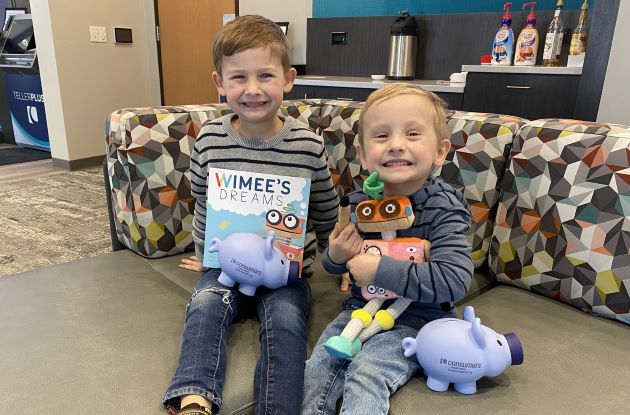 How to get started
Deposit $5.00 to open an account
The child's Social Security number and a qualified parent or guardian are required to open a youth account at an office.
Piggy bank
Get your choice of Consumers piggy bank upon account opening.
Wimee Kids' Savings Club card
Pick up a Wimee Kids' Savings Club card to track your deposits and prizes.
Already have an account?
Youth members 12 & under who already have a savings account can earn Wimee prizes, too, starting with their first new deposit in 2023.
Deposit money to earn prizes
When you come into an office in the future to add money (any amount) to your account, you can earn cool Wimee swag.
First deposit
Wimee Kids' Savings Club Sticker
Youth Financial Education