Serious Interest Checking high yield account
A checking account that can earn you serious interest!
Treat yourself to a Consumers Credit Union high yield checking account that pays you back. Earn 4.00% APY* on balances up to $15,000 when you have 12 posted debit card transactions per month, a $1,000 average daily balance, $1,000 minimum recurring monthly direct deposit and eStatements.
A Consumers Credit Union high yield checking account allows you the same flexible access to your money when you need it, with the added benefit of yearly return on your balance - what's not to like?
Open Now
What is a high yield checking account?
High yield checking accounts, also known as high interest checking accounts, are a form of checking account that offers an interest rate on the money in your account. Much like standard checking accounts, a high-yield checking account allows you to still access your money every day for purchases, bills, and the like, but with the added benefit of a yearly return on the balance in your account, as long as you meet the minimum usage requirements.
High Yield Checking Features
No per check deposited fees
30,000+ fee-free ATMs nationwide
Competitive interest rates
Custom alerts for balance and activity
More Checking Account Options
Choose a checking account that works best for your lifestyle!
But Wait ... There's More!
With a Consumers high interest checking account, you have access to additional account benefits.
Member Perks
Local companies honor discounts and services to Consumers members. All you need to do is show your debit or credit card upon purchase. 
Debit Cards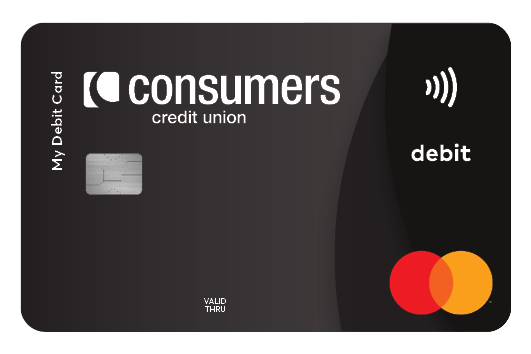 An instant-issue debit card will be handed to you when you open an account in one of our offices or sent to you when you open an account online!
Find your Mastercard benefits here, including free ID theft protection.
*Reward qualifications: APY = Annual Percentage Yield. To qualify for the monthly high interest reward (4.00% APY) you must meet the following minimum checking account requirements each statement cycle: (1) make 12 debit card transactions that post to your account during the statement cycle, (2) maintain at least a $1,000 average daily balance in the account, (3) receive an aggregate of $1,000 or more during the statement cycle in recurring direct deposits to the account, and (4) be enrolled in and receive monthly eStatements. Statement cycle: The statement cycle is defined as the period beginning on the first day of each calendar month and ending on the last day of the same month. Balance information and interest crediting: If you meet the minimum qualification requirements during the monthly statement cycle, 4.00% APY will apply to balances $15,000.00 and below; 0.01% APY will apply to balances of $15,000.01 or more. Each interest rate will apply only to the portion of the account balance that is within the specified range. The APY shown on your monthly statement will reflect interest earnings for your entire balance. Interest will be calculated and posted on the last day of each month using an Average Daily Balance Method. The Average Daily Balance Method applies a periodic rate to the average daily balance in the account for the statement cycle. The average daily balance is calculated by adding the balance in the account for each day of the statement cycle and dividing by the number of days in the statement cycle. All Serious Interest Checking Accounts in which reward qualifications are not met will earn 0.01% APY for the entire balance. If you close your account before interest is paid, you may not receive the accrued interest. General information: Rates accurate as of March 29, 2023, are variable and subject to change at any time. Fees may reduce earnings. Limit one high interest checking per Social Security number.