Take the next step toward homeownership
Buying a home can be very overwhelming. Our mortgage education resources can help first-time home buyers navigate the mortgage process so they can get into the home of their dreams.
View Rates
Apply Now
What to Know Before Buying a House
Things to do:
Understand your overall financial health.
What's your credit score? Do you have any outstanding debts? To learn where you stand, check out your credit report in Online Banking.
Get preapproved.
(See Step 1 below.) Nothing is worse than finding your dream home and then not having lending set up if you need to put in a fast offer. Get pre-approved here. Learn why preapprovals are important here.
Return requested documentation.
Your mortgage loan officer will need information about your employment and income, including pay stubs and tax records, and any other assets you might have. Use our documentation checklists to help you get organized.
Document any cash gifts.
Depending on your situation, gift money may or may not be allowed, and we'll need additional details to see where the funding is coming from, including any additional cash deposits into your accounts.
Keep payments current.
Continue to make your rent or mortgage payments on time.
Understand what a new home really costs.
When calculating how much you can afford for a house, avoid surprises by learning about all the costs. Read more.
Things NOT to do:
Open any new lines of credit or make big purchases.
Hold off on that new car or credit card until after you've settled in. New financing could affect your credit and hold up or even prevent funding approval.
Jump jobs.
Showing a consistent employment history is most ideal for sailing through the lending process. If anything about your job changes, please let us know as soon as possible.
Make undocumented transactions.
Closing or opening accounts or even transferring funds (especially cash) can trigger additional documentation requests. So too can selling large assets (like a boat or trailer) without proper tracking. Consult with your mortgage loan officer before doing so.
Cash out investments or 401(k)s.
Wait until afterward to avoid extra documentation requests or risk losing funds to a declining market.
Go it alone.
We're here to help answer your questions and guide you through the process. Don't be afraid to reach out to us anytime.
Step 1: Determine your budget and financing options
Set your budget, including your monthly payment, down payment and closing costs, and reserves for maintenance and repairs. Our mortgage calculators can help you crunch the numbers.
Apply for preapproval. Complete an application in as little as 20 minutes online using our FastApp Home Loan App. Afterward, your mortgage loan officer will review your financing options with you. Learn why preapprovals are important here.
Start your search
Determine your needs and wants in a house—the number of bedrooms, bathrooms, yard size, etc.
Many websites and apps are available to help you see what's on the market in your desired area.
Find a realtor. Ask trusted sources for recommendations! Your realtor will show you properties
that meet your needs and budget.
Step 2: Let's make an offer
Work with your agent to prepare your initial offer. Your offer can be conditional on financing and home inspection, and itemize what's included in the sale. Your agent will present the offer along with an earnest deposit to show you are a serious buyer.
3-5 days later | The seller can accept, reject or return a counteroffer. If they counteroffer, you can negotiate by raising your offer or changing the conditions.
Step 3: Once your offer is accepted
Apply for the loan. During the application process, Consumers will ask for your supporting documents to verify your income and assets and will send you the completed loan application package for your signature. We will also collect the appraisal fee of $450.
Within 10 days | Unless otherwise stated in your purchase agreement, you typically have 10 days to complete any home inspections. Depending on the results, you may have further room to negotiate or reconsider moving forward with the deal.
Step 4: Your application is now being processed
Consumers will order the title commitment and an appraisal on the property and review the details of your purchase agreement.
Consumers will receive the results of the title search. We will also review your debt to income ratios, current debt structure and asset verification in order to ensure that all qualifications for the mortgage are met.
Once underwriting can ensure that any questions regarding the loan application have been answered and all conditions for financing have been met, your loan will be approved!
Step 5: You're ready to close (within 3-4 days or 96 hours of approval)
At closing, you'll finalize the loan documents with the closing company to register the house in your name and pay your down payment (minus the deposit you made when presenting your offer). Your lender will pay the seller. You're ready to move in!
Mortgage Resources
Mortgage Process Overview
It's hard to know what to expect when you're buying a house—especially for the first time. Review our step-by-step one-sheet to learn what it is going to take to get you into your new home.
Mortgage Glossary
Come again?! Mortgages don't have to be Greek to you. Check out this handy mortgage glossary.
Understanding PMI
Learn about escrow
Required documents
Builder profile
Budgeting Biweekly to Pay Off Your Mortgage
Dos and Don'ts
Understanding PMI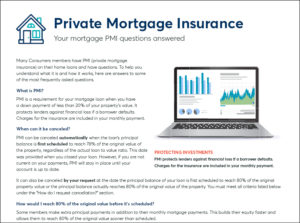 PMI may be a requirement for your mortgage loan when you have a down payment of less than 20 percent of your property's value.
Learn about escrow
Many homebuyers are surprised to find that their monthly house payment is more than the payment calculated to pay back their loan. That's because lenders often require buyers to put money into escrow.
Required documents
Save time by grabbing a list and checking off the documents you'll need.
Builder profile
To be considered an approved builder for our members to use Consumers financing for, please complete the attached Builder profile. The form should be submitted via email or fax to the Consumers mortgage loan officer your client is working with.
Budgeting Biweekly to Pay Off Your Mortgage
After you've been in your new home, you'll likely be tempted by ads that promise to help you pay down your mortgage faster. It's a really great idea except for paying the fee they'll charge. You can set up a budgeting plan yourself without paying a middleman. See how!
Dos and Don'ts
Get prepared for buying a new home. Here's what you need to know.
Find A Loan Officer
Get the help you need from the time you apply until closing paperwork is signed.
Mortgage Calculators
Try out one of our handy calculators and crunch some serious numbers to see how much home you can afford.
Learn More