The Groves Corporate Headquarters
Office Hours
Mon – Fri: 9 a.m. – 4 p.m.
Not a retail location.
The Groves Corporate Headquarters 7200 Elm Valley Drive
Kalamazoo, MI 49009
At this Location
Just off the intersection of I-94 at 9th Street and Elm Valley Drive, Consumers' Corporate Headquarters is the home of more than 150 employees and a true community center for collaboration and member service excellence.
The site at The Groves Engineering Business Technology Park was picked for its natural setting, visibility and its central location in West Michigan. Plus, it features many cool amenities like a café and coffee bar and a fitness center that help make Consumers such a great place to work.
Not a retail location.
Nearby Offices
Texas Corners
6929 West Q Avenue
Kalamazoo, MI 49009

Drive-Thru Hours (with Drive-Thru Tellers)
Monday: 9 a.m. – 7 p.m.
Tuesday: 9 a.m. – 7 p.m.
Wednesday: 9 a.m. – 7 p.m.
Thursday: 9 a.m. – 7 p.m.
Friday: 9 a.m. – 7 p.m.
Saturday: 9 a.m. – 1 p.m.
Sunday: Closed
ATM Available 24/7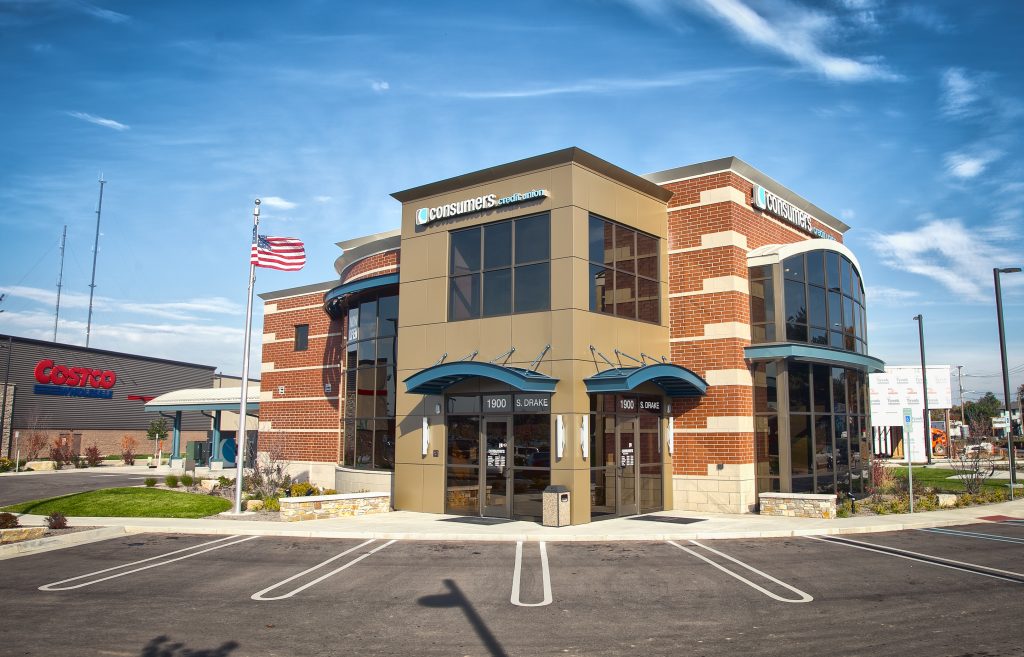 [email protected]

Office
1900 South Drake Road
Kalamazoo, MI 49006
(Drake and Stadium)
P: 269.345.7804

Office Hours
Monday: 9 a.m. – 5 p.m.
Tuesday: 9 a.m. – 5 p.m.
Wednesday: 9 a.m. – 5 p.m.
Thursday: 9 a.m. – 5 p.m.
Friday: 9 a.m. – 5:30 p.m.
Saturday: 9 a.m. – Noon
Sunday: Closed
Drive-Thru Hours (with Drive-Thru Tellers)
Monday: 9 a.m. – 7 p.m.
Tuesday: 9 a.m. – 7 p.m.
Wednesday: 9 a.m. – 7 p.m.
Thursday: 9 a.m. – 7 p.m.
Friday: 9 a.m. – 7 p.m.
Saturday: 9 a.m. – 1 p.m.
Sunday: Closed
ATM Available 24/7
9th Street Office
6699 West Main Street
Kalamazoo, MI 49009
P: 269.345.7804
F: 269.353.0200
Office Hours
Monday: 9 a.m. – 5 p.m.
Tuesday: 9 a.m. – 5 p.m.
Wednesday: 9 a.m. – 5 p.m.
Thursday: 9 a.m. – 5 p.m.
Friday: 9 a.m. – 5:30 p.m.
Saturday: 9 a.m. – Noon
Sunday: Closed
Drive-Thru Hours (with Drive-Thru Tellers)
Monday: 9 a.m. – 7 p.m.
Tuesday: 9 a.m. – 7 p.m.
Wednesday: 9 a.m. – 7 p.m.
Thursday: 9 a.m. – 7 p.m.
Friday: 9 a.m. – 7 p.m.
Saturday: 9 a.m. – 1 p.m.
Sunday: Closed
ATM Available 24/7
Milham Office
1065 West Milham Avenue
Portage, MI 49024
(at Milham and Constitution)
P: 269.345.7804
F: 269.488.7669
Office Hours
Monday: 9 a.m. – 5 p.m.
Tuesday: 9 a.m. – 5 p.m.
Wednesday: 9 a.m. – 5 p.m.
Thursday: 9 a.m. – 5 p.m.
Friday: 9 a.m. – 5:30 p.m.
Saturday: 9 a.m. – Noon
Sunday: Closed
Drive-Thru Hours (with Drive-Thru Tellers)
Monday: 9 a.m. – 7 p.m.
Tuesday: 9 a.m. – 7 p.m.
Wednesday: 9 a.m. – 7 p.m.
Thursday: 9 a.m. – 7 p.m.
Friday: 9 a.m. – 7 p.m.
Saturday: 9 a.m. – 1 p.m.
Sunday: Closed
ATM Available 24/7