2.16.23
Consumers Credit Union Launches Wimee Kids' Savings Club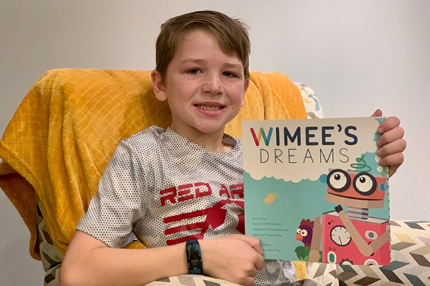 Kalamazoo, MICH — Consumers Credit Union has launched a new program to promote and reward youth savings: the Wimee Kids' Savings Club.
Made famous by his kid's show "Wimee's Words," which airs weekly on PBS across Michigan, Los Angelesand New York, Wimee is a friendly, and oftentimes silly, robot puppet who guides young audiences on adventures in creative exploration.
In early 2022, Consumers launched a partnership with Wimee to create the innovative video series Money Minutes with Wimee and Friends to help young learners understand basic elements of finance. The Wimee Kids' Savings Club is an expansion of this partnership.
"We are thrilled with our Wimee partnership and know kids are learning how to save through Wimee's videos and fun," said Consumers President & CEO Scott Sylvester." Wimee will be visiting our offices and helping families learn together."
"The Money Minutes with Wimee and Friends video series has already impacted countless children and families on the importance of financial literacy," said Michael Hyacinthe, CEO and founder of Wimage. "We are so excited to continue that outreach and education with Consumers through the Wimee Kids' Savings Club!"
Parents and guardians are invited stop by any Consumers office to open a youth account* with a minimum $5 deposit.
Upon opening the account, they will be given a Consumers piggy bank and a Wimee Kids' Savings Club card to track their deposits and the prizes they've earned.
With each sequential in-office deposit, they will earn a prize, including:
1

st

Deposit – Wimee Kids' Savings Club sticker

2nd Deposit –Wimee's Dreams children's book
3rd Deposit – Wimee plush toy
Current youth members under the age of 12 can still earn Wimee prizes too, starting with their first new deposit in 2023.
*Youth Savings Accounts earn 0.10% Annual Percentage Yield. APY is accurate 1/5/2023. $5.00 minimum balance to open and receive a piggy bank. Deposit any amount in-person and in-office to receive the promotional items. Offer expires December 31, 2025. Fees may reduce earnings. Federally insured by NCUA.
Enter your email address to receive notifications of new posts by email.
Get awesome new content delivered straight to your inbox.